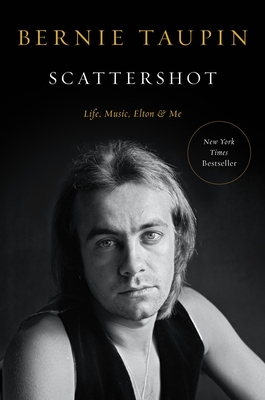 Scattershot: Life, Music, Elton, and Me
Publication Date:
September 12th, 2023
Publisher:
Hachette Books
Balin Books
4 on hand, as of Dec 8 9:15am
On Our Shelves Now
Description
**NEW YORK TIMES BESTSELLER**
An evocative, clear-eyed, and revealing memoir by Bernie Taupin, the lyrical master and long-time collaborator of Elton John
"I loved writing, I loved chronicling life and every moment I was cogent, sober, or blitzed, I was forever feeding off my surroundings, making copious notes as ammunition for future compositions. . . . The thing is good, bad, or indifferent I never stopped writing, it was as addictive as any drug."
This is the memoir music fans have been waiting for. Half of one of the greatest creative partnerships in popular music, Bernie Taupin is the man who wrote the lyrics for Elton John, who conceived the ideas that spawned countless hits, and sold millions and millions of records. Together, they were a duo, a unit, an immovable object. Their extraordinary, half-century-and-counting creative relationship has been chronicled in biopics (like 2019's Rocketman) and even John's own autobiography, Me. But Taupin, a famously private person, has kept his own account of their adventures close to his chest, until now.
Written with honesty and candor, Scattershot allows the reader to witness  events unfolding from Taupin's singular perspective, sometimes front and center, sometimes from the edge, yet always described vibrantly, with an infectious energy that only a vivid songwriter's prose could offer. From his childhood in the East Midlands of England whose imagination was sparked and forever informed by the distinctly American mythopoetics of country music and cowboy culture, to the glittering, star-studded fishbowl of '70s and '80s Beverly Hills, Scattershot is simultaneously a Tom Jones­-like picaresque journey across a landscape of unforgettable characters, as well as a striking, first-hand account of a creative era like no other and one man's experience at the core of it.
An exciting, multi-decade whirlwind told in a non-linear yet grounded narrative, Scattershot whizzes around the world as we ride shotgun with Bernie on his extraordinary life. We visit Los Angeles with him and Elton on the cusp of global fame. We spend time with him in Australia almost in residency at an infamous rock 'n' roll hotel in an endless blizzard of drugs. And we spend late, late night hours with John Lennon, with Bob Marley, and hanging with Frank Sinatra. And beyond the world of popular music, we witness memorable encounters with writers like Graham Greene, painters like Andy Warhol and Salvador Dali, and scores of notable misfits, miscreants, eccentrics, and geniuses, known and unknown. Even if they're not famous in their own right, they are stars on the page, and we discover how they inspired the indelible lyrics to songs such as "Tiny Dancer," "Candle in the Wind," "Bennie and The Jets," and so many more.
Unique and utterly compelling, Scattershot will transport the reader across the decades and around the globe, along the way meeting some of the greatest creative minds of the 20th century, and into the vivid imaginings of one of music's most legendary lyricists.
Praise for Scattershot: Life, Music, Elton, and Me
"I simply wouldn't write songs without Bernie Taupin. I've read every word he's ever written and there could never be enough of them to satiate my need for Bernie's way of seeing the world. Scattershot, though, is a lifting of the veil, as beautifully written as it is honest and rugged. Reading this book brought me face to face with who he truly is: an empathic genius who speaks to the everyman."—Brandi Carlile
"This is the most glorious of books. I am besotted by the life I never knew he had."—Elton John
"Orgasmic. Every page of Scattershot is a delight, a joy, a name-dropper fan's delight. Divine. I couldn't put it down."—Pete Townshend
"In Bernie Taupin's miraculous memoir Scattershot you'll meet legends, cowboys, geniuses, unforgettable faces in the night, shady purveyors of outrageous fortune, warriors of the heart, and most of all, Taupin himself. Hilarious and so emotionally true, Scattershot is like a letter from a cherished friend. You'll want to keep it close, so you can read it again and again."—Cameron Crowe
"Touching. Charming. Humble. Witty. And exquisitely written. Taupin's words need no musical accompaniment. They sing with a poet's voice."—Gary Oldman
"Eloquent and inspiring, Scattershot is a freewheeling memoir that is as warm and evocative as Bernie Taupin's most memorable lyrics. A born storyteller, Taupin gives us the life of an artist whose outlook was shaped by a rare but fascinating blend of lifelong innocence and endless intellectual curiosity."—Robert Hilburn, author of Johnny Cash: The Life
"Written in a highly entertaining, articulate style with a wickedly acidic sense of humor, this book sets a new standard for rock biographies."—Library Journal
"Fans of the two artists [Elton John and Bernie Taupin]… should check this out. For the less-initiated, Taupin has a lot to say, and it shouldn't be missed."—Booklist
"[Taupin] describes meeting [Elton John] and their famous longtime collaboration and friendship. He revisits their early years, through John's megastardom, with plenty of wild times along the way."—AARP