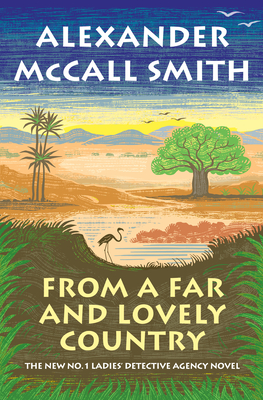 From a Far and Lovely Country: No. 1 Ladies' Detective Agency (24) (No. 1 Ladies' Detective Agency Series #24)
Publication Date:
October 31st, 2023
Balin Books
1 on hand, as of Dec 8 9:15am
On Our Shelves Now
Description
In this latest installment in Alexander McCall Smith's cherished No. 1 Ladies' Detective Agency series, two confounding cases compete for Mma Ramotswe's attention—and she may need to call in back up.
"An escape from life's woes as well as a suggestion for how to make the whole deal more palatable—fragility, fruit cake, and all." —The Boston Globe
Mma Ramotswe and Mr. J.L.B. Matekoni are enjoying a nice meal out at a peri-peri restaurant when an American woman named Julia approaches seeking Mma Ramotswe's help. Julia's beloved late grandfather was Botswanan, and he instilled in her an abiding love of his homeland. Now, years after his passing, Julia has come to visit the land he had spoken of so often and to find her relatives. Unfortunately, her grandfather's stories, while charming and entertaining, were somewhat light on detail; all Julia can remember are a few first names and some descriptions of his village. It's not a lot to go on, but if anyone is well poised to help, it's Mma Ramotswe, Botswana's premier detective.
Meanwhile, a second case leads Mma Ramotswe to look for assistance from an unexpected quarter. For the first time, Charlie leads his own investigation at the detective agency, going undercover into a dubious, word-of-mouth get-together known as the Cool Singles Evening Club, where married men are encouraged to pretend to be single and meet women under false pretenses. Who could be behind such a distasteful venture? Getting to the bottom of this will be a tall order, to be sure, but Charlie is eager for the opportunity.
As Mma Ramotswe learns more about Julia, she begins to understand that Julia's heartbreak runs deeper than she had initially realized. Together, Mma Ramotswe and Mma Potokwane must find a way to help their client heal and move forward—from both her past and her present. Julia had originally come to Botswana seeking family and connection, but in the warm embrace of Mma Ramotswe and Mma Potokwane, what she ends up finding is a home.
Praise for From a Far and Lovely Country: No. 1 Ladies' Detective Agency (24) (No. 1 Ladies' Detective Agency Series #24)
Praise for From a Far and Lovely Country
"McCall Smith's No. 1 Ladies' Detective Agency is one of the most reliably entertaining cozy series running, soothingly returning readers to the tiny Botswana office of Mma Precious Ramotswe, the wise and resourceful founder of the agency that she operates with her comically snarky and over-reaching assistant, Mma Grace Makutsi, with whom she discusses detective strategy over mugs of South African red bush tea. . . . This is largely a comic novel, enlivened by Precious' reflections, Grace's jockeying for status, and part-time mechanic and apprentice detective Charlie's struggles to overcome his unreliability. A total delight." —Booklist [starred review]