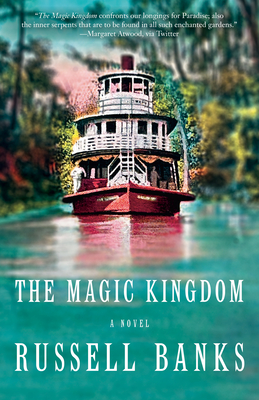 The Magic Kingdom: A novel
Publication Date:
October 17th, 2023
Balin Books
4 on hand, as of Dec 8 9:15am
On Our Shelves Now
Description
From one of America's most beloved storytellers: a dazzling tapestry of love and faith, memory and imagination that questions what it means to look back and accept one's place in history. In 1971, Harley Mann revisits his childhood, recounting his family's move to Florida's swamplands—mere miles away from what would become Disney World—to join a community of Shakers.
"Eerily timely. Can what's gone wrong in the past offer keys to the future? The Magic Kingdom confronts our longings for Paradise; also the inner serpents that are to be found in all such enchanted gardens." —Margaret Atwood, author of The Testaments, via Twitter
Property speculator Harley Mann begins recording his life story onto a reel-to-reel machine, reflecting on his youth in the early twentieth century. He recounts that after his father's sudden death, his family migrated down to Florida to join a Shaker colony. Led by Elder John, a generous man with a mysterious past, the colony devoted itself to labor, faith, and charity, rejecting all temptations that lay beyond the property. Though this way of life initially saved Harley and his family from complete ruin, when Harley began falling in love with Sadie Pratt, a consumptive patient living on the grounds, his loyalty to the Shakers and their conservative worldview grew strained and, ultimately, broke.
As Harley dictates his story across more than half a century—meditating on youth, Florida's everchanging landscape, and the search for an American utopia—the truth about Sadie, Elder John, and the Shakers comes to light, clarifying the past and present alike. With an expert eye and stunning vision, Russell Banks delivers a wholly captivating portrait of a man navigating Americana and the passage of time.
Praise for The Magic Kingdom: A novel
"Masterfully crafted . . . The Magic Kingdom is not the experience as it happened but as it's been distilled for decades in the crucible of a guilty conscience. [Banks is] interested in the way grand schemes intended to perfect human nature produce instead a combination of secrecy and shame that can spark wildly unpredictable results . . . Always in the background of Harley's reminiscence hovers Disney's effort to create the Happiest Place on Earth—just the latest project of dreamers and schemers who sought to make Florida in their image . . . Banks has created another fascinating volume in his exploration of the American experience."
—Ron Charles, The Washington Post
"Engrossing . . . As ever, Banks writes gorgeously about [Florida's] natural wonders, pointing out the strange magnetism a place needs to have to attract the world's detritus . . . Banks is writing with an eye to the present."
—Mark Athiakis, Los Angeles Times
"Tender . . . Mr. Banks has created a quietly beautiful memorial to a transitory way of life that would soon disappear behind the theme-park attractions of contemporary America."
—Sam Sacks, The Wall Street Journal
"America has always been aspirational—the search for 'a more perfect union,' as outlined in the preamble to the Constitution, ongoing. But in The Magic Kingdom, Russell Banks's beautifully crafted story of love and betrayal in an early-20th-century religious community, those ideals undermine one man's chance for happiness, revealing the flaws in our American dream along the way."
—Clea Simon, The Boston Globe
"Russell Banks's new novel is eerily timely. Can what's gone wrong in the past offer keys to the future? The Magic Kingdom confronts our longings for Paradise; also the inner serpents that are to be found in all such enchanted gardens."
—Margaret Atwood, author of The Testaments, via Twitter
"As always happens when I read Russell Banks's work, I couldn't put it down. That is the Banks magic—the propulsive force of the narrative, even as his stories twist and turn through various diversions, asides, and introspections—for the narrative voice is always constant, and that constancy never fails to hold the reader in its grip. Banks is still working at full blast, creating work as good as anything he has ever done and—is it possible?—perhaps even better."
—Paul Auster, author of 4 3 2 1
"Banks dazzles in this story of a Floridian Shaker community torn apart from within and without . . . The author uses himself as a narrator, a metafictional device that throws the fictional past into stark relief."
—Los Angeles Times, "30 Books We Can't Wait For This Fall"
"A fascinating tale narrated over half a century."
—New York Post, "28 Books You'll Want to Read This Fall"
"Banks's penetrating dissection of the American dream and its frequently unfulfilled promises is consistently profound. This is his best work in some time."
—Publishers Weekly, starred
"[The Magic Kingdom's] core is the emotional mirror of memory . . . A multilayered tale of innocence and guilt from a gifted storyteller."
—Kirkus Reviews, starred
"Banks' prose is … melodic, the work of a seasoned raconteur. The characters are nuanced and three-dimensional, simultaneously full of pride and doubt. An elegiac and introspective portrait of a young man and how his fear of loneliness manifests that of which he is most afraid."
—Booklist