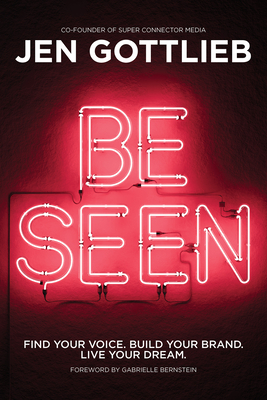 BE SEEN: Find Your Voice. Build Your Brand. Live Your Dream.
Publication Date:
October 31st, 2023
Publisher:
Hay House Business
Balin Books
1 on hand, as of Dec 8 9:15am
On Our Shelves Now
Description
NATIONAL BESTSELLER
From a leader whose business is all about creating connection: strategies to find your audience, hone your brand, and achieve your dreams by letting the world see the real you.
Do you feel like you're hiding in the shadows and not living up to your true potential?
Do you lack the confidence to show the world who you really are and build the business you really want?
Do you want to stop comparing yourself to other people on social media and start feeling empowered in your own personal journey?
If you answered yes to any of those questions, then BE SEEN: Find Your Voice, Build Your Brand, Live Your Dream is the guide you need to break free from your fears and step into your spotlight.
BE SEEN is a roadmap for building a personal brand that showcases your unique talents and strengths. Through relatable stories and actionable advice, Jen Gottlieb shares her own path to becoming a recognized expert in her field and takes you on a journey of self-discovery to help you find your voice and unleash your full potential.
Divided into four parts, each with its own set of tactical strategies, BE SEEN helps you to:
Be Courageous: This section focuses on mindset shifts and self-reflection exercises to break through the barriers holding you back and find the courage to take bold action.
Be Creative: Here, you'll learn how to tap into your creativity and unlock the unique talents that make you stand out so you can build the future you dream of.
Be Connected: Building meaningful relationships and cultivating a tribe of loyal supporters who align with your values and goals is the focus of this section. Jen provides networking tips and tricks to help you connect with others authentically.
Be Visible: Finally, you'll learn how to step into your spotlight and showcase your talents to the world. Jen provides practical advice on content creation and marketing strategies to help you get your message out there.
With a foreword from New York Times best-selling author Gabby Bernstein, BE SEEN is an inspiring guide filled with step-by-step methods, personal anecdotes, and all the tools you need to build your own personal brand.
Whether you're an entrepreneur, a creative professional, or just someone who wants to build a life that reflects your true self, BE SEEN will help you unleash your full potential and finally be seen for the incredible, unique person you are.
Praise for BE SEEN: Find Your Voice. Build Your Brand. Live Your Dream.
"BE SEEN will help you clarify your unique strengths and show you how to use them to build a one-of-a-kind brand that represents the highest and best of who you are."
— Marie Forleo, #1 New York Times best-selling author of Everything Is Figureoutable
"I'm dedicated to optimizing our brain performance and health, so I deeply appreciate Jen's belief that anyone can overcome their past negative thinking and reach their highest potential. BE SEEN helps you defy expectations and achieve the visibility you seek."
— Jim Kwik, New York Times best-selling author of Limitless, host of the Kwik Brain podcast, and the world's #1 brain coach
"You need this book! If you're looking for a book that will inspire you to get out of your own way and shine, look no further than BE SEEN. Through stories that draw you in and the honest wisdom of a friend, Jen Gottlieb shows you how to take action and get results. Whether you're an entrepreneur, a nine-to-fiver, or someone with a really good idea who doesn't know where to start, this book has got you covered with practical frameworks and step-by-step systems."
— Jenna Kutcher, New York Times best-selling author of How Are You Really? and host of the Goal Digger podcast
"A powerful read for anyone who has ever felt unseen, unheard, or unsure of themselves. With real-life stories, business strategies, and actionable tips, Jen's book will electrify you to reveal your true identity and leave an indelible mark on the world. Be seen, get what you deserve, and achieve the success that's waiting for you!"
— Amy Porterfield, New York Times best-selling author of Two Weeks Notice and host of top-rated podcast Online Marketing Made Easy
"Jen's sharp wit and strategies will help you overcome your fears and show up as your real self. Whether you're an entrepreneur, a creative, or simply someone who wants to make a difference, this book is for you. Read it, apply its wisdom, and get ready to shine!"
— Kellyann Petrucci, New York Times best-selling author and celebrity nutritionist
"BE SEEN is the bold, must-have guide to finally GETTING OUT THERE IN A BIG WAY that feels authentic—claiming your power and getting clear on your message to the world."
— Lori Harder, best-selling author of A Tribe Called Bliss, founder of H2Glo, and host of the Earn Your Happy podcast
"BE SEEN is incredibly alluring and grabs you instantly. Her real-life, super-relatable, and ultra-vulnerable stories will inspire you to overcome your own fear, self-doubt, and comparison. . . . Jen's approach is refreshing, empowering, and transformative—just like her."
— Alli Webb, founder of Drybar and president of Canopy
"BE SEEN is the must-have guide to claiming your power and embracing your unique gifts. Jen Gottlieb shares her personal triumphs and failures while offering achievable steps to help you uncover your voice, become visible, and attain the success you deserve."
—  Trent Shelton, best-selling author and motivational speaker
"BE SEEN is a must-read for anyone who wants to succeed in the world of branding and marketing. Jen provides practical advice and essential insights to help you build an authentic and visible presence that will attract and engage your audience. I highly recommend it!"
—  Neil Patel, New York Times best-selling author
"Jen got me featured on television shows, countless news articles, and even ROLLING STONE magazine!!! (Need I say more?)"
— Dan Fleyshman, investor, best-selling author, and host of the top-rated podcast The Money Mondays
"There's a difference between wanting to build a personal brand and actually having a guide like BE SEEN to show you how to make it happen. When it comes to developing personal branding, confidence, and success, Jen Gottlieb is hard to beat. She is a trailblazer who has laid out a practical and inspiring approach for anyone who is looking to elevate their personal brand."
— Tim Storey, best-selling author and motivational speaker
"If more good people read BE SEEN, we'd have a lot of personal dragons slayed. And the world would enjoy more inspiring stories of triumph."
— Todd Herman, Wall Street Journal best-selling author of The Alter Ego Effect
"BE SEEN is an inspiring read that will help you find your voice and step into your power."
— Dave Meltzer, co-founder of Sports 1 Marketing, host of Office Hours and The Two Minute Drill
"BE SEEN is the ultimate guide for anyone looking to build a loyal following and make a lasting impact in a crowded world. If you're ready to step into the spotlight, this is the book for you!"
— Nicole Lapin, New York Times best-selling author
"Your full potential can only be realized if you're visible. BE SEEN is your recipe. Read it, act on it, and leave your indelible mark on the world."
—  Mike Michalowicz, author of Profit First and Get Different
"BE SEEN is the ultimate playbook for those seeking to elevate their personal brand and skyrocket their confidence. Jen equips you with the tools and insights to chase your dreams fearlessly and make a lasting impact."
— Kim Perell, award-winning entrepreneur, investor, and best-selling author of JUMP