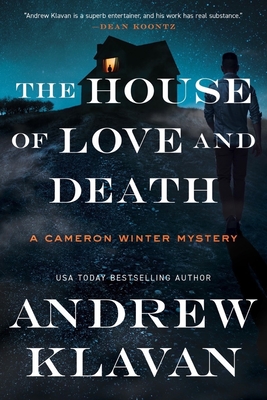 The House of Love and Death (Cameron Winter Mysteries)
Publication Date:
October 31st, 2023
Publisher:
Mysterious Press
Balin Books
1 on hand, as of Dec 8 9:15am
On Our Shelves Now
Description
Instant USA Today Bestseller
In the newest entry in the bestselling Cameron Winter series, the ex-spy-turned-English professor defies accepted narratives and corrupt local authorities to investigate the murder of a wealthy family in the Chicago suburbs.
Cameron Winter is known for having a sense about crime. His background as a spy trained his mind—and his body—for action, and his current role as an English professor gives him a sharp understanding of human nature. But beyond that, he was born with a "strange habit of mind"—the ability to recreate detailed crime scenes in his imagination and dissect the motives and encounters that produced them. And after reading a puzzling news story about a wealthy family killed in a small town in the Chicago suburbs, he can't resist the chance to apply this deductive power in the pursuit of justice for the victims.
Three members of the family, along with their live-in nanny, were pulled from their burning mansion, already dead from gunshot wounds. The only survivor is a young boy whose memory of the event raises more questions than answers. The police seem happy to settle on a simple explanation and arrest the most obvious suspect—but Winter knows that obvious solutions are seldom the correct ones, and all too often hide a darker truth.
While Winter's investigation is welcomed by many who knew the victims, the lead detective makes it clear he not only wants Winters to stop looking for answers, but to stay out of his town altogether. Winter begins to understand why as he slowly uncovers crimes and unsavory behavior that had been ignored long before the killings, and in the process grows increasingly determined to find the real killer and expose the rot beneath the town's sanitized façade. And as the inquiry brings all-too-familiar sins to the surface, he'll have to confront his own inner demons once and for all.
Insightful and atmospheric, The House of Love and Death is a penetrating mystery with a plot that cuts straight to the dark heart of some of modern America's most pressing issues.
Praise for The House of Love and Death (Cameron Winter Mysteries)
Andrew Klavan is a superb entertainer, and his work has real substance. I look forward to his books like I looked forward to Christmas when I was a kid.
— Dean Koontz
Andrew Klavan is the most original American novelist of crime and suspense since Cornell Woolrich.
— Stephen King
Klavan successfully deepens Winter's character as the professor digs into his own past, Tony Soprano style, and the central murder mystery remains gripping throughout. Fans of complex investigators like Thomas Harris's Will Graham will be enthralled.
— Publishers Weekly STARRED REVIEW
Klavan's writing ability and his intelligence show up on every page and make the ride worthwhile.
— NY Journal of Books
A compelling demonstration of why a self-tormenting killer makes the perfect detective.
— Kirkus
Cameron Winter is a terrific protagonist, such a complex and determined character. It is easy to follow along with him straight to the conclusion of this fiery and unpredictable thriller.
— BookReporter