Signed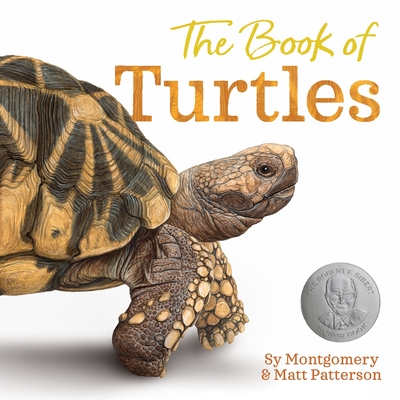 The Book of Turtles (SIGNED)
Publication Date:
May 2nd, 2023
Balin Books
4 on hand, as of Dec 8 9:15am
On Our Shelves Now
Description
** A KIRKUS BEST BOOK OF THE YEAR **
From National Book Award finalist and New York Times bestseller Sy Montgomery comes an ode to one of the most diverse, fascinating, and beloved species on the planet: turtles. With dazzling illustrations and emotionally engaging, fact-filled text, this picture book will speak to the wisdom these long-lived animals can lend.
Everyone loves turtles. And no wonder: long-lived, unhurried, and ancient, these shelled reptiles are fascinating.
Turtles are also endlessly surprising. There are turtles with soft shells, turtles with googly eyes, turtles with necks longer than their bodies, and turtles whose shells glow in the dark!
And each turtle, of each of the more than 300 kinds, is an individual. You'll meet some of them here: Lonesome George, the last of his kind on Earth. And Myrtle, the 90-year-old green sea turtle who has more than 7,000 followers on Facebook.        
What questions might you ask a turtle? You'll find many of the answers in this gorgeous compendium—and perhaps be inspired to help at a time when these reptiles, who evolved at the same time as the dinosaurs, face the deadliest dangers of their more than 380-million-year history.
Read more books by Sy Montgomery:
Becoming a Good Creature
The Magnificent Migration
Condor Comeback
The Hyena Scientist
The Octopus Scientists
The Great White Shark Scientist
Praise for The Book of Turtles (SIGNED)
Praise for The Book of Turtles: ★ "Smartly pairing two experts in wildlife portrayal, this one is not to be missed. Splendid." — Kirkus Reviews (starred review)
Praise for The Book of Turtles: ★ "Montgomery and Patterson astonish with this fact-driven turtle tribute. Realistic, almost photographic, acrylic paintings capture diverse turtle species. Every page is an authoritative delight in this conservation-minded ode poised to turn anyone into a turtle lover." — Publishers Weekly (starred review)
Praise for The Book of Turtles: ★"A stunning book that will delight readers of any age, filled with interesting facts about the turtles' life cycles, their eating habits, and even a few myths." — School Library Journal (starred review)
Praise for The Book of Turtles: ★ "Acclaimed science writer Montgomery introduces turtles to young readers. [A] pattern, consisting of short, informative paragraphs written in Montgomery's easy journalistic style and accompanied by a detailed acrylic-paint illustration complementing the text, continues throughout. Fascinating." — Horn Book (starred review)
Praise for The Book of Turtles: ★ "In this inviting book, Montgomery introduces turtles with facts, observations, and an irrepressible admiration for the critters as well as a knack for seeing things from their perspective. A beautiful, informative introduction to turtles." — Booklist (starred review)
Praise for Becoming a Good Creature: ★ "Full of conviction, wisdom, and essential truths." — Kirkus Reviews (starred review)
Praise for How To Be A Good Creature: "A rare jewel, full of empathy and the profound wisdom Sy has received from animals she has loved over her extraordinary lifetime. This sweet book is a triumphant masterpiece that I'm recommending to everyone." — Stacey O'Brien, New York Times bestselling author
Praise for The Octopus Scientists: ★ "Through sharply crafted text, Montgomery shares her enthusiasm with readers, and Ellenbogen's vibrant color photos allow a crystalline window into a very special environment...Another enticing entry in a series devoted to highlighting enthusiastic scientists hard at work in the fields they love." — School Library Journal (starred review)